Joined

Dec 28, 2007
Messages

8,214
Car

Volvo V90 D5 AWD
Audi R8, Bentley, RR Sport and ? Plenty money, less brain.
The following photo shows the above cars racing round the three lane inner ringroad in Birmingham City Centre, at
lunchtime
today.
All driven by laughing and smiling Asian lads - there is a great deal of Asian wealth around this particular suburb of Birmingham, and many young lads who drive some fabulous cars.
I first encountered them on a single carriageway leading to the city centre. They were about 6 cars behind me initially, but within a few hundred yards all 4 cars had bulldozed there way through the oncoming traffic onto the ring road.
At one junction, they sat at lights in the turn right lane, before blasting away and barging in to make the left hand turn.
On the ring road they switched back and forth across all three lanes, jostling for positions, in out, in out, cutting each other up and cutting everyone else up (including me - grrrrr).
At the large island known as Five Ways, the RR Sport pulled out blocking the lanes and forcing the roundabout traffic to stop, to allow the R8/Bentley and ? to join the roundabout.
There was much gnashing of teeth and swerving by Joe Public to avoid colliding with them during the 2 or so miles where I was going the same direction as them.
Now, I like a blast now and again (don't we all?) but this was Saturday shopping time and a very very busy inner ring road.
Anyway, to lighten things up a little, can you see what the 4th car was, just visible over the bonnet of the Bentley?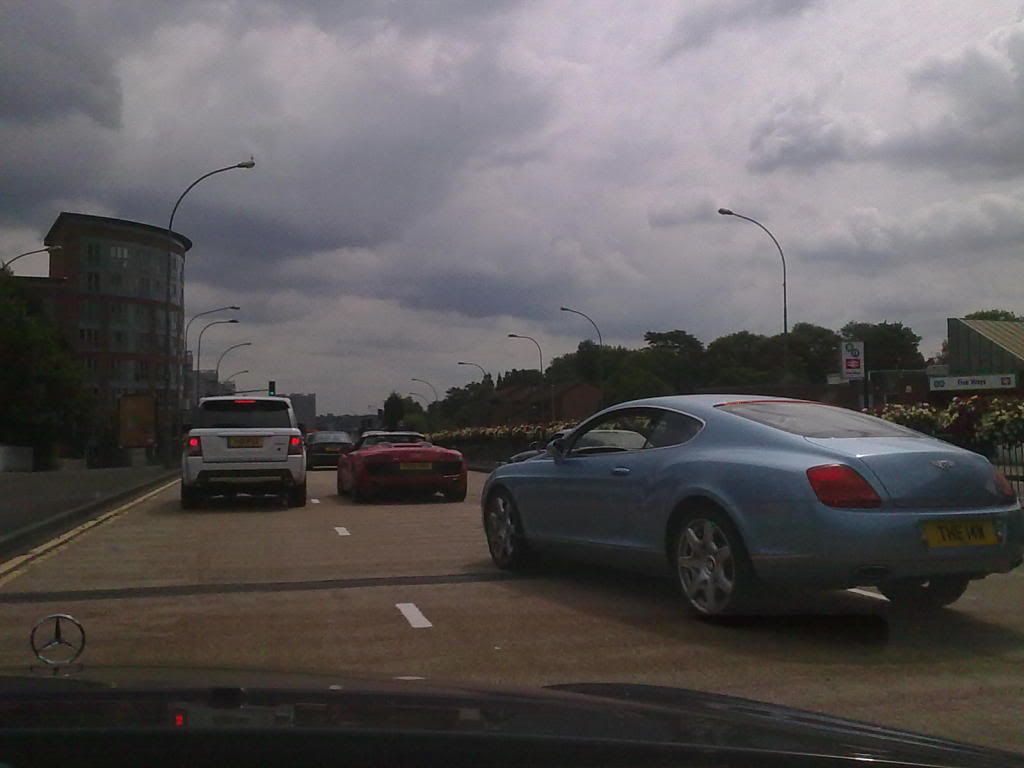 Last edited: