We were due to take delivery of a new E class this month.
Background.
Mrs Red is a wheelchair user (MS). She can transfer herself from chair to car with a little help but walking is extremely limited/not happening.
We decided this year to opt out of the Motability scheme due to the restriction it places on the cars we can now have and has stopped us using our own money to fund something nicer.
Since we got our last car 3 years ago Mrs Red's condition has deteriorated to a degree that she really needs some form of modification to the passenger seat to aide here entry and exit from our car. Me lifting her out is not a long term solution (at least not for my back!)
We figured we'd take advantage of the VAT relief that HMRC offer to wheelchair users with a substantial and permanent modification to the car.
Visited dealer, had a test drive, Mrs Red loved the comfort and drive of the E class, the numbers were right and we placed an order and arranged for a seat modification. Car was built to our spec, delivered to dealer and due to be collected early August.
Three days before collection we get a call from MB informing us they don't consider the modifications undertaken "substantial and permanent" and even if they were they couldn't sell us the car on finance VAT free according to Mercedes Finance for reasons that were never completely explained to us. Our deposit was returned and we had no vehicle.
The sales lady we were dealing with was mortified and completely embarrassed (she is their Mobility specialist and has sold a number of cars in this manner) this is MB retail, not a franchised dealer.
So she contacted a friend of hers at another MB dealer, a franchise this time not MB retail, (arranged to transfer the new car we'd ordered across to them) luck would have it we'd bought a car from him before, so we went to meet discussed what we'd like to do - he contacted his head office, they gave him the procedure and explained what modification would be considered "permanent and substantial" without question - a swivel seat. That suits us perfectly. We said what we'd like is something along the lines of this, retaining the original MB seat:-
Fast forward to this weekend, we get a call explaining they can't fit a swivel seat in an E class and retan the original Mercedes seat. The only thing we can have is this:-
Which kind of defeats the object of buying and E class for it's ride quality and seat comfort.
The VAT relief makes this car affordable for us, without the VAT relief we can't buy it.
Does anyone happen to a know of a company that could undertake a swivel seat modification to an E class and retain the original seat?
We are considering another modification:-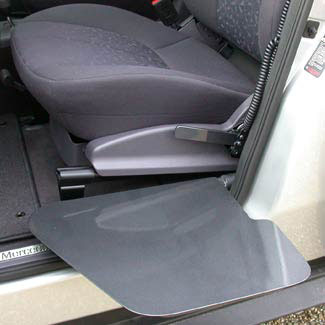 This would certainly help Mrs Red get in and out of the car - but we're waiting to hear if this would be considered "permanent and substantial".
Any ideas greatly appreciated.
Last edited: