Hello
My wifes B class the other day said this C service 9300 miles, I took a pictures as I wanted to look up what a 'c' service is and the costs.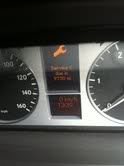 Then today about 2 weeks later than above picture my wife comes in and says the dash board has a message 'C' Service due in 27 days.
Is this correct, can it change like that? seems a licence for Mercedes to get some more money off us? The car has probably done around 4500 miles since its last service.
Do I have to take it in? or will it affect the full MB service if I don't? or just take it for an oil change and the code reset?
Anyone had a C service on a B class Cdi any idea on cost and what they do on the service. I will ring Chester Mercedes tomorrow to ask.
I'm just a little confused how one day its over 9000 miles and the next is 27 days??
thanks
Last edited: