Joined

Feb 22, 2004
Messages

8,881
Location
Car

SL400 and 911 GT3
I emailed AMG asking them if I could visit. They responded the same day, agreeing to the date and time I had requested. A very good sign.
Set off on Sunday morning early. Got an earlier train than expected. Decided to see if I could make to the Porsche Museum. I did!
CLS looking good in a very clean Porsche Museum car park:
Look what was on display at the Porsche Museum (part of Porsche's celebration of its engineering business):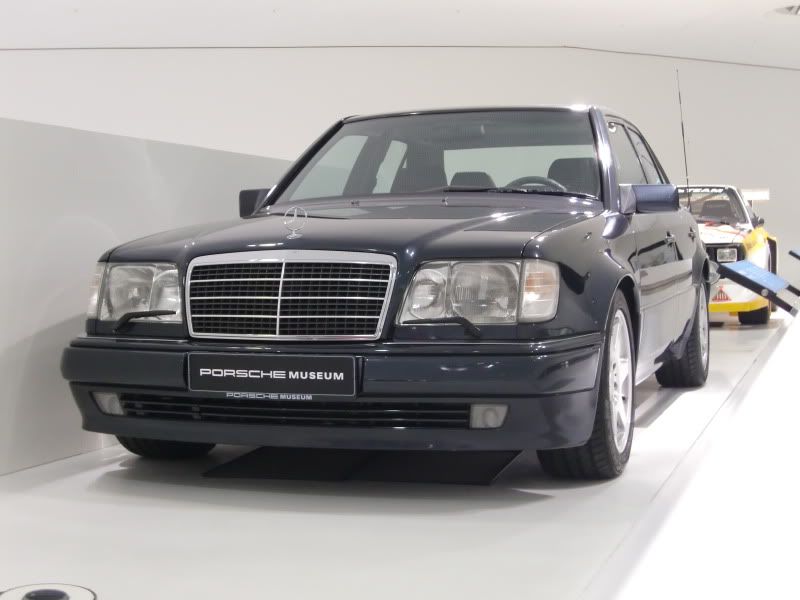 Arrived at AMG early. Affalterbach really is a small town. AMG is so well hidden that you really have to look for it. At first, I thought COMAND had got it wrong .. surely not, it's a Mercedes facility!! It turns out that it's the other end of Daimlerstrasse.
I notice 3 flags, the Union Jack, the stars and strips and the French flag. AMG was expecting visitors from these 3 countries, hence the flags. Not only at the front visitor's entrance, but also the rear. Very thorough.
My CLS is 'home', and it wants to go inside: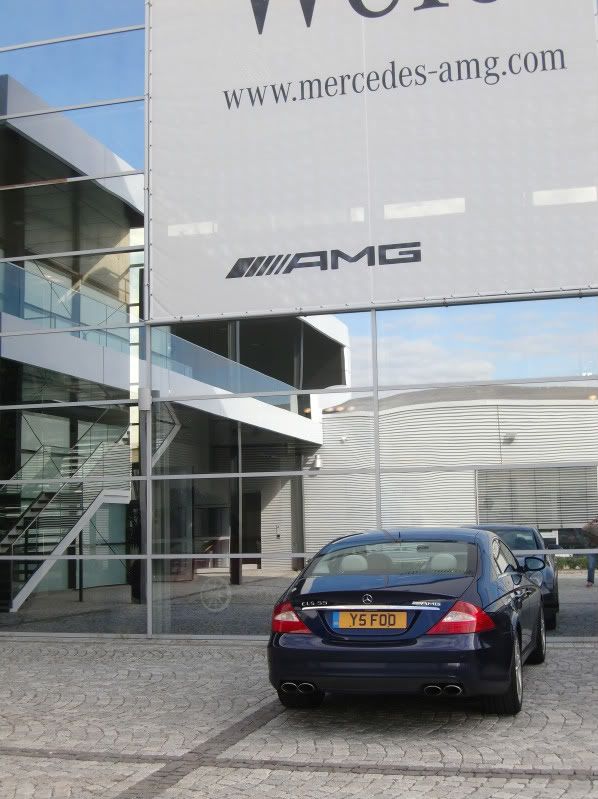 My guide arrives. Just for me. No one else in my tour. Tour is supposed to last 90 minutes, but Mr Bassenger spent 2 hours taking me round and chatting about all things AMG.
Pictures not allowed except outside. Spotted a car in the press recently: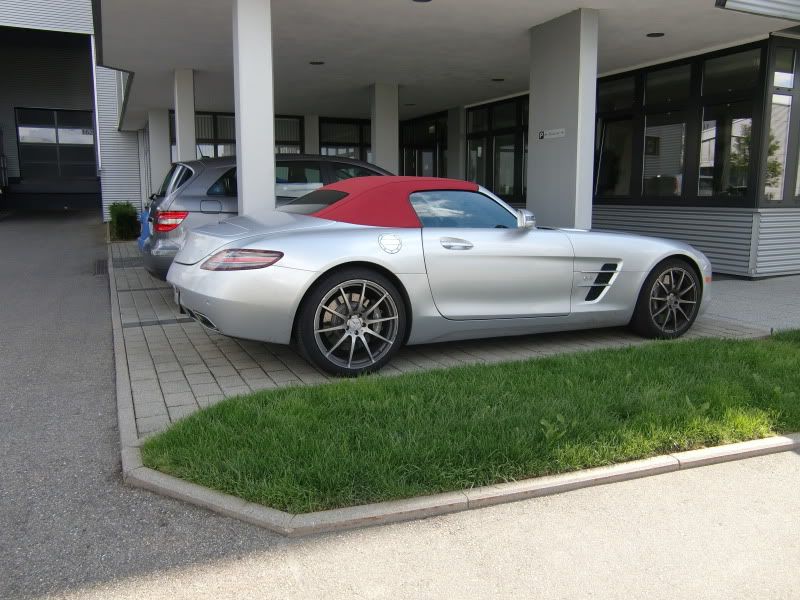 Interesting tidbits:

1. There is a new AMG customer lounge, and very lovely it is too. Modern, with a black and white theme, with outside space and views across the countryside. I suspect if a large number of UK AMG owners turned up, they might lay something on.
2. Mr. B got me to open the CLS's bonnet, he took a picture of the builder of the engine. When we got to the engine building facility, he asked for the man, but he had moved on to engine development in Sindelfingen. I did meet an engine builder who knew my man well.
3. It's not possible to specify an engine builder for your new AMG (some AMG customers want the same man to build the engines for their AMGs) because engines are not allocated at time of build to specific cars. They are used as required.
4. There are 2 main floors for engine assembly. The V12 bi turbo (for Asia Pacific and Middle East markets where only a V12 (7 day) will do) and the V8 Kompressor (yes these (14 a day) are still being built for the G class,) are on the ground floor. The new V8 bi-turbo and the 6.3 (including the SLS dry sumped engine) are on the first floor.
5. I saw a cut out of the V8K engine. Superb engineering.
6. PPP on the new bi turbo engines is a just a different software map, all engine components are the same. PPP on the 6.3 V8 on the C class has lighter bits (nicked from the SLS), and is not only more powerful, but also significantly more responsive. Engine covers (the ribbed ones) for 6.3 V8 PPP engines are dark grey, and standard engines are light grey.
7. The 6.3 V8 is the only AMG engine that has no Mercedes bits. All other AMG engines have Mercedes bits. Didn't know that.
8. We went to one of the hot test rooms – where they run an engine randomly taken off the production line for 1 hour at various loads to ensure that all is OK. Just when we were there, the engine (a new bi turbo V8) was put under maximum load. Helpfully, the lights were turned off, and I saw the red glow from the exhaust manifold to the turbo to the cats, the silencer, and the rear box spreading like lava rolling down hill. Utterly bewitching, and totally fascinating. Highlight of the day by far. 1 in 5 of the new bi turbo V8 engines is currently hot tested, but only 1 in 100 of the 6.3 V8 is. The output of the engine is connected to a generator to provide electricity. No customer is told whether the engine in his/her car has been hot tested.
9. They also cold test each engine built (i.e. a machine turns the engine over but there is no combustion).
10. There were about 5 technicians preparing a white SLS roadster for the Frankfurt show. You heard it first here .. there will be a white SLS roadster on display at the Frankfurt motor show.
11. The SLS is apparently hand welded by women in Austria, as they are more accurate than men. The SLS's ceramic brakes, at 402mm, is one of the largest fitted to any car.
12. Mr A of of the A part of AMG has a separate consulting and parts manufacturing business next to AMG. The part numbers of these parts have "HWA" .. familiar to me as part numbers for AMG alloys, and AMG brake bits.
13. AMG performance studio will do just about anything for you (except increase power beyond what is generally available). A man wanted 6 exhausts for his SL, so they built it for him. That cost 30,000 Euros plus VAT. Another wanted a Maybach rear seat in a G class, so they did that too, by building an G with extended wheel base. That was 300,000 Euros. You can now order a G class with extended wheel base.
14. There were also a number of AMG Driving Academy cars in for maintenance.
15. The 7 speed AMG MCT gearbox is made by Getrag. Apparently, Mercedes makes all of its other automatic transmissions itself.
16. You can pick up your new AMG at Affalterbach if you want to. AMG doesn't publicise this because it is a hassle. There was a C63 Estate with PPP waiting for delivery when I was there.
High speed on derestricted Autobahns:

For the first time, I drove the 55 as it was intended. Utterly effortless grunt, sailing past the traffic as if propelled by air. Generally quite easy to cruise at 120mph. Lane discipline is mostly excellent, and the locals do not mind being overtaken.
I hit 150mph or thereabouts a number of times for short periods (there were not many stretches of road to do this speed safely). Each time, I marvelled at how quickly we got to that speed, the roar of the V8 and the incredible stability of the car. It also dawns on you why hugely powerful brakes are required – it's stunning how quickly you can decelerate when you need to with complete stability and speed. It's at these speeds that you understand and appreciate the engineering and quality that has gone into the car's components and design.
AMG, there really is no substitute.

Last edited: