Hi all, selling these with a heavy heart! i really wanted these for ever!! such an amazing seat look so nice,custom trimmed to perfection and quality.
So i have a pair of Sparco Corsa VTR seats trimmed in Charcoal/Anthracite Dinamica (the Alcantara material Porsche and Bentley now use) with dark Orange stitching not cheap this is a hard wearing quality material more expensive too.
The seats were fitted to an E92/1M but these are after market seats so just need floor brackets to fit in a Mercedes. these can be purchased from demon tweeks or other, or even fabricated as the ones i have are fabricated to fit bmw.
The seats do have holes in the headrest to allow the use of 4-5 point harnesses, these have been trimmed over to give the seats a cleaner look like the CSL seats. If you need the harness slots, the material can be cut and the Sparco grommets fitted to enable safe and correct fitment of 4/5 point harness shoulder straps.
Sabelt steel side mounts they are the neatest available (satin black) and look factory fitment.
The seats are very supportive and will transform the feel of the vehicle they're fitted to, they mount to custom made alloy adaptors, which again look like a factory fitment. engineered the mounts to enable the seat to be mounted as low as possible to the floor pan. The sense of connection with the car will be a shock to those not familiar with properly mounted and installed race bucket seats.
The seats brackets/side mounts accept the standard mounting hardware and seat belt stalks/pretensions. No modifications will be required to ANY part of the car or floor pan to allow fitment of the seats, so should you decide to sell your car, the removal of these seats and fitment of the oem seats will be straightforward.
Due to the lack of the passenger seat occupancy sensor and thorax airbags in the Sparco seats, your car will need re-coding to extinguish the dashboard airbag light. Though alternatively the fitment of the correct resistor to the existing cabling will fool the car's ECU into thinking the airbags are still present.
Both seats have removal covers over their side bolsters to ensure the seat material doesn't get worn/damaged or shiny when getting in and out of the seats.
Will only sell as a pair with all the necessary bolts, brackets, side mounts and adaptors. Will ship worldwide at purchasers expense.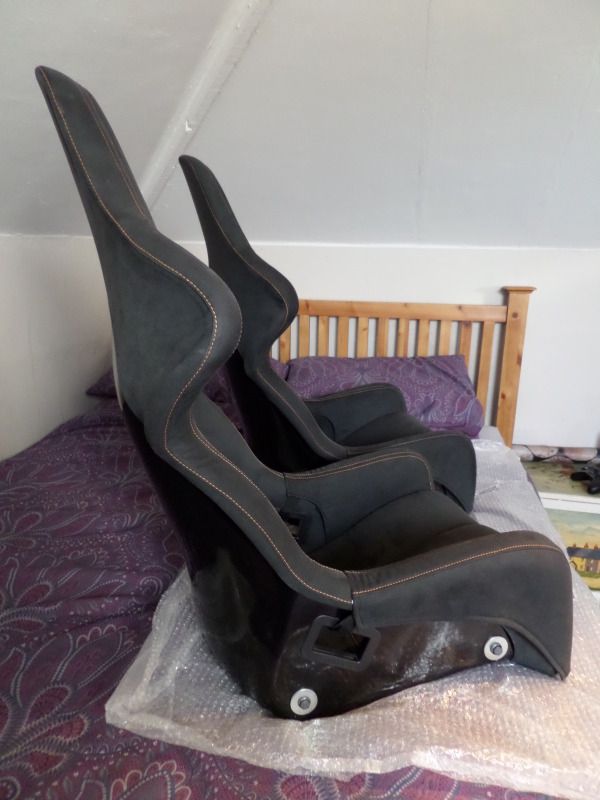 I think these would look amazing in a C63 or A45 AMG even E63! very purposeful
£1250 PM me or email
J_yas10@yahoo.co.uk
i will of course take calls just ask for my number if interested.